Retreats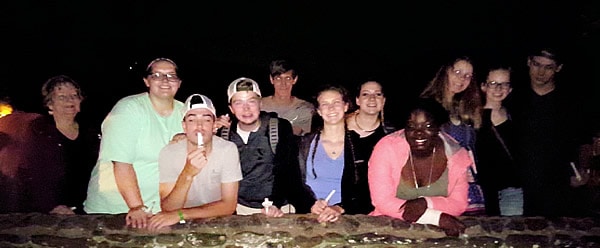 FPC youth have the opportunity to participate in camps and retreats so they may have time to reflect and deepen their faith away from their daily routines. These opportunities allow the FPC youth to strengthen their relationships within the group and with other Christian youth throughout the Presbytery and the country. See Financial Assistance.
Montreat Youth Conferences
Montreat Youth Conferences are special events –a gathering of Presbyterian young people from all over the country for a week of study, worship and recreation. Montreat is a Presbyterian retreat center in the mountains of North Carolina. It is an especially lovely place where many experience God in a close and personal way. More about this national program.
A typical day at youth conferences includes:
morning energizers
keynote
small group meetings (where the conference theme is explored)
afternoon recreation activities and other options (Wednesday afternoon is free)
evening worship
Triennium
Every three years, more than 3,000 Presbyterian teenagers attend Triennium to worship and connect with youth from around the world.  See Financial Assistance.
A REFLECTION ABOUT 2019 PRESBYTERIAN YOUTH TRIENNIUM

Triennium was definitely one of the highlights of the year. At first I was a little irritated and tired because I just got back from Peru, but that mindset quickly changed because of the friends that I made and saw for the first time in two years. However, I think that my favorite part of triennium was the worship. Nothing can really compare to how cool it is to worship with five thousand other youth. Throughout the week I definitely made memories to last a lifetime.

— Blaine Smallwood
Financial Assistance – Scholarship
First Presbyterian Church supports its children and youth by offering a variety of experiences that are faith-based. Some of these experiences may include summer camps, mission trips, Montreat Youth Conferences, REACH workcamps and Triennium. Since there is a cost for some of these events, youth are encouraged to help earn money to finance their trip through fundraisers organized by the church and by applying for a Participation Scholarship.