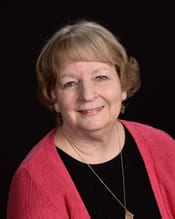 Dr. Marilyn Hofmann
Preschool Director/Acting DCE
"I love children of all ages! I have had the privilege of loving all the children of the church for many years – we are a church family who truly loves and appreciates children – we take our baptismal commitments seriously to support and nurture our youngest in the faith. We want you to come visit us – and become part of this family of faith.  I know how important this family continues to be for me and we welcome new people into our family!"
Dr. Marilyn Hofmann graduated from Hanover College (a small Presbyterian college in Ind.), and received both her master's of science degree in counseling psychology and Ph.D. in curriculum and instruction from the University of Missouri-Columbia. She taught in the education department at Lincoln University for 35 years and was department head for six years. She and her husband, Jim, are the parents of two children, two in-laws, four grandchildren, and also helped raise seven foster children. She enjoys anything that involves children of any age!
Jaime Nelson
Jaime Nelson has a degree in Marketing and Management and has operated an in-home child care program for the past 4 years. Her family just moved to Jefferson City from Ashland, allowing her to become the Aide for all the classes. She and her husband, Brad, have three children: a son in middle school, a daughter in elementary school and a daughter in our Challenge Class.  She enjoys being outside, painting, crafts, and sports.  We welcome Jaime to our Preschool family.

Laurie Koestner
Laurie Koestner has a Bachelor's and Master's degree in Elementary Education from Lincoln University and has taught 1st, 3rd, 5th and 6th grades in Russellville. She loves working with young children and is outgoing, energetic, full of ideas and devoted to children and their learning. She is married to Jerry and together they have 4 children and 3 grandchildren.

Mandy Engelbrecht
Mandy Engelbrecht has many years of working with young children. She began her career babysitting in high school, and then volunteered at the Special Learning Center, where she later served as an aide. She taught at a church-based preschool working with a three-year-olds in the Kansas City area, and worked as a paraprofessional in Russellville. Before joining us, she worked at Kirchner State School. She and her husband, Jason, have three boys. She enjoys reading, scrapbooking, going for jeep rides and being with children. Mrs. Engelbrecht teaches the 3 year olds on Tuesday, Wednesday and Thursday and the 2 year olds on Monday.