Worship Schedule – Suspended through March 29
We invite you to walk the Lord's path with us at any of our regular weekly worship services.  Or, join us for special worship services at Easter and Christmas.
Sunday Worship Schedule
Out of deep love and concern for one another, and our neighbors, the Session Spiritual leaders have made a prayerful, informed and wise 100% 'yes' decision to suspend physical worship and activities through March 29. We will convene and re-evaluate around March 30.
9:30 a.m. – Online Livestream Worship – all services are archived for viewing anytime
5 p.m. – Free meal 'to go'
Seasonal Services
Celebrating Communion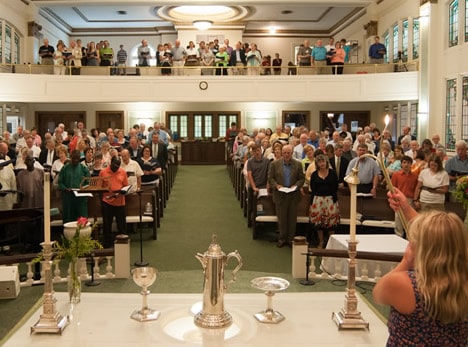 Presbyterians practice "open" communion, meaning that anyone who believes in Jesus Christ is welcome to share in communion. Communion is held the first Sunday of each month during regular worship services and at each seasonal service.
At the morning service communion is typically celebrated by passing the bread and juice through the pews. At the Sunday Evening Worship service, communion is typically shared through intinction, when the bread is dipped into the cup.
The communion bread is gluten-free so all might partake.