We invite you to walk the Lord's path with us at any of our regular weekly worship services.  Or, join us for special worship services at Easter and Christmas.
Sunday Worship Schedule
Join us in person or online for worship on Sundays at 9:30 am or follow the service on Live Stream Livestream.com/fpcjcmo or on YouTube youtube.com/fpcjcity.
Seasonal Services
Celebrating Communion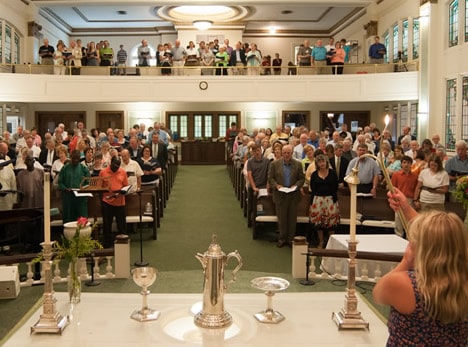 Presbyterians practice "open" communion, meaning that anyone who believes in Jesus Christ is welcome to share in communion. Communion will be served at the 9:30 a.m. Worship service and the 5 p.m. Worship service [when it resumes] and is held on the first Sunday of each month.
At the morning service communion is typically celebrated by passing the bread and juice through the pews.
The communion bread is gluten-free so all might partake.
Communion dates for 2023:
Ash Wednesday – February 22nd: Ashes to Go, 11 a.m.-1p.m.
Lenten Vespers services – Lenten Wednesday Vespers begin on Ash Wednesday February 22 at 6:30 and run through March 29!
Palm Sunday – April 2nd
Maundy Thursday – April 6th
Easter Sunday – April 9th
Pentecost – May 20th
Trinity Sunday – June 4th
Christ the King – November 26th
Christmas Eve, December 24th – both EVENING services
Authorize that Primrose Communion be served monthly in accordance with the schedule established during 2023.
For the Lenten vespers Communion will be celebrated weekly!