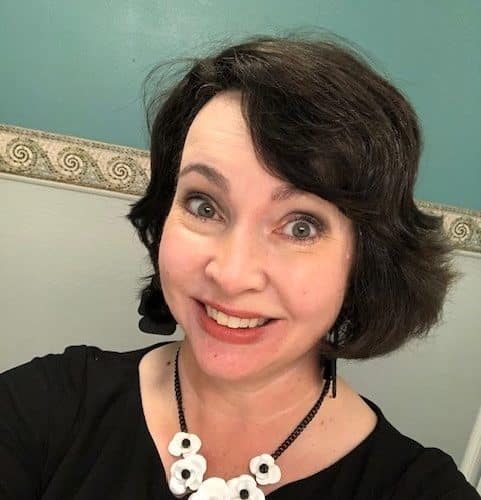 Angela Madden
Pastor and Head of Staff
Rev. Angela served as pastor and Head of Staff for Winfield First Presbyterian,Winfield, KS, for seven years prior to joining the staff at FPC in August 2019.
Pastor Angela obtained a degree of International Studies and a minor in French at Wichita State University. She went on to Washburn Law School for a Juris Doctorate and then graduated from Louisville Presbyterian Theological Seminary. Her first ordained call was to serve at the General Assembly as an Associate for Ecumenical and Mission Partnerships, preaching all over the world, including Lebanon and Egypt. She has served as Moderator of the Presbytery of Southern Kansas and Chair of the Council. She also chaired the Presbytery's Committee on Church Order for two years, was a member of the Presbytery Council, served on the Committee on Ministry and chaired an Administrative Commission. In the Missouri Union Presbytery, Pastor Angela has been asked to serve on the Permanent Judicial Commission and the Bills and Overtures Committee.
She and her family, Jack Scott (husband) and Major (son), are native Kansans. Jack is CAGA (Certified Appraisers Guild of America) certified and owns his own business, Antique Retriever LLC, offering estate sales, live auctions, online sales, and appraisals. Major adores trains, elevators, STEM engineering, reading and art.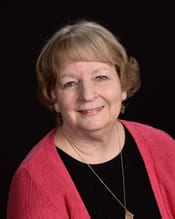 Dr. Marilyn Hofmann
Preschool Director
MARILYN HOFMANN is the director of the Preschools for the church and taught in the Education Department at Lincoln University for many years. She and her husband, Jim, have two adult children and four wonderful grandchildren. Mrs. Hofmann has a doctorate in Education and loves anything to do with children of any age!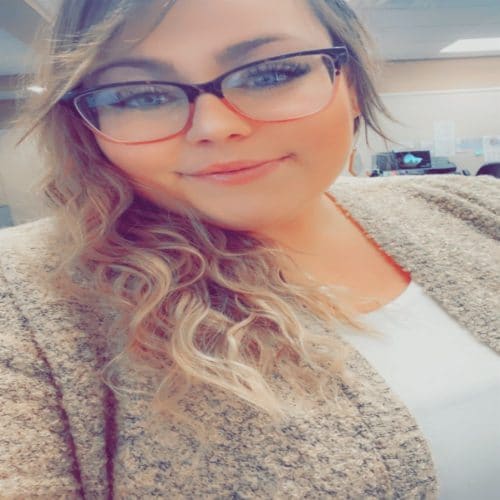 Jaymee Toebben
Administrative Assistant
Jaymee has an impressive resume and she will be joining us from First Mid Bank and Trust where she has served as a Loan Assistant and Universal Banker. She was Operations Manager for LifeTouch for several years and is nearing completion of her Bachelors in Business Administration.
Her references speak very highly of her credentials, people skills, and delightful personality. One reference remarked 'The bank's loss is the church's gain.' She is a problem solver and fluent in sign language. Another reference said 'Jaymee goes above and beyond and is very well-liked by customers.' As Jaymee introduces herself:
"I am a mama to my two beautiful children, Kaeden and KhaLeeah. I was born and raised in Jefferson City, MO. My favorite past – time is watching my son practice basketball three times a week, and watching his tournaments every weekend. I love Mexican food and cherry Vanilla Coke!"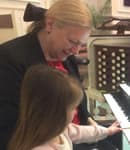 Jimmy Kay Sanders
Church Organist
Jimmy Kay Sanders, a Jefferson City native, received her bachelor of music education and master's of music education degrees from the University of Missouri – Kansas City Conservatory of Music. She also studied at the Academy of Music, Vienna, Austria.
She taught elementary vocal music (K-6) in the North Kansas City School District and served as organist for Eastminster Presbyterian Church in Kansas City before returning to Jefferson City. She served as organist at First United Methodist Church for many years before joining the staff at First Presbyterian in 2008.
Sanders is a member and has served as Dean of the Central Missouri Chapter of the American Guild of Organists. She is a member of Pi Kappa Lambda Music Honor Society and has served as state President of Sigma Alpha Iota International Music Fraternity for Women. She is active in many musical, as well as community, organizations.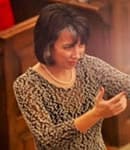 Natasia Sexton
Choir Director
Dr. Natasia Sexton is director of choirs and assistant professor of music at Westminster College where she teaches Music of the Western World, Music History I, II, applied voice lessons, and conducts the Wren Quire, Blue Jay Glee Club, and the Westminster Women's Chorale. Prior to coming to Westminster College, she taught at Franklin College in Ind., at St. Andrew's School in Saratoga and in the Fort Bragg Public Schools in Calif.  While in California, Dr. Sexton worked as a church musician conducting choirs at Burlingame Presbyterian Church and Sunnyvale Presbyterian Church.  She is a member of American Choral Directors Association, National Association of Teachers of Singing, Music Educators National Conference, and College Music Society.  She has two cocker spaniels, Lula Belle and Bessie.
2022 Committees
| | |
| --- | --- |
| Session | |
| Clerk | Cecil Caulkins |
| Christian Education Committee | |
| Chair | Melissa Manda |
| | Susan Sanker |
| | Paul Wilson |
| Facilities Committee | |
| Chair | Todd Holt |
| | Bill Washburn |
| | Christa Johnston |
| Fellowship Committee | |
| Chair | Bev Morff |
| | Carla Ahrens |
| | Debbie Wilson |
| Missions Committee | |
| Chair | Jodi Hardman |
| | Cecil Caulkins |
| Stewardship & Finance Committee | |
| Chair | Lee Pearson |
| | Debby Howland |
| | Ray Schneider |
| Deacons | |
| Salvation Army | |
| Chair | Cheryl Smallwood |
| | Linda George |
| | Brenda Hancock |
| Ken Locke | |
| Chair | Natalie Mendez |
| | Libby Hafley |
| | Garth Haugan |
| New Members | |
| Chair | Roger Connell |
| | Mark Englund |
| | Mary Nichols |
| Alpha & Omega | |
| Chair | Jane Bedsworth |
| | Dustin Roberts |
| | Marty Gardner |
| Local Mission | |
| Chair | Tom Weaver |
| | Amy Rogers |
| | Cody Epema |
| Lifeliners | |
| Chair | Rosie Hutson |
| | Grace Rogers |
| Communion Prep | |
| Chair | Jan Haviland |
| | Nancy Marsh |