Our Beliefs and History
First Presbyterian Church of Jefferson City is part of the Presbyterian Church (U.S.A.), which has approximately 2.4 million members, 11,100 congregations, and 14,000 ordained and active ministers.
About Presbyterian Worship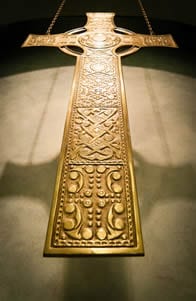 Worship is at the very heart of our church life. Why do Presbyterians worship the way we do?
History
Presbyterians trace their history to the 16th century and the Protestant Reformation. Our heritage, and much of what we believe, began with the French lawyer John Calvin (1509-1564), whose writings crystallized much of the Reformed thinking that came before him.
First Presbyterian Church of Jefferson City was founded in 1834 by Rev. Robert McAfee. The congregation of 12 people met in Legislative Hall where the Governor's Mansion is now.  In 1844, the congregation built a one-room, stone building across from the then Governor's residence on the south side of Main Street.
Like the country, the congregation divided over the Civil War disbanded and sold the building in June 1865. The congregation reformed in 1867 under the leadership of Rev. J. Addison Whittaker and continued until 1874 when financial problems and litigation with a building contractor forced it to close.  Although formal worship was discontinued, Sunday School continued under the leadership of Mr. Oscar Burch.
The congregation of 12 had its third beginning in 1883 led by Rev. Thomas Marshall. The church grew during the next 10 years building, remodeling, and adding an auditorium.  Soon, in 1886, its first Women's Circle was formed.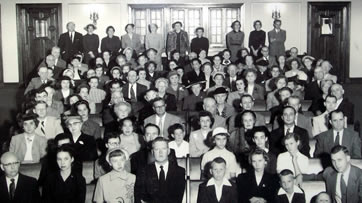 By the turn of the 20th Century, First Presbyterian Church flourished and grew to 200 members. Boy Scout Troop 2 began meeting at the church in 1923 – just 13 years after the founding of scouting – and it continues to meet at the church today.
In 1927, the church building was demolished and the building we worship in today was built. During this period, 1925-1951, Rev. A.B. Jackson was the pastor and he began a family legacy of active members who still worship with us.
The Presbyterian Church (USA) ordained the first woman Pastor, Margaret Towner, in 1956. First Presbyterian Church of Jefferson City ordained its first woman Elder, Mary Burton James, in January 1967.
First Presbyterian Church has called many wonderful leaders to serve in the past including Arthur Hughes, Associate Pastor – 1969, Charles Ross, Pastor – 1974, Rudy Beard, Pastor -1981, Rob Erickson, Pastor – 2010, and Zac Wolfe, Associate Pastor for Youth and Contemporary Worship – 2012.
Currently, the church is led by Rev. Angela Dionne Madden, called and installed in the fall of 2019. She is joined by highly capable spiritual leaders, Deacons, and Elders, who seek to serve with energy, intelligence, imagination, and love.
Today, the congregation has more than 380 members. We continue our mission to share the love of Christ through community service, international missions, children's programs, ecumenical relations, and worship.