Sunday School and Confirmation
10:35-11:00 Children and Youth Join Mrs. Natalie Mendez, Teacher in the Gym for Service Projects, Fellowship, Bible Story, and learning through play
Sunday School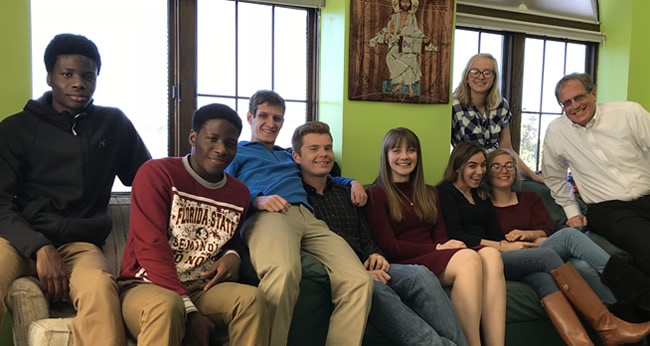 Mid-Highs (sixth to eighth grade) meet in the youth room above the gym (map). We will be exploring questions we and other youth ask about our faith and turning to the Bible for answers. They alternate weeks, engaging in interesting discussion and following their three-year confirmation. Teachers: Marilyn Hofmann and Siri Kemp.
Senior Highs (ninth to 12th grade) meet in the Senior High Room (upstairs nearest sanctuary – map) for Sunday School. The focus is on preparing youth to face a world whose values and beliefs are not ours. Currently discussing ethics; what are ethics, on what do we base our moral decisions, and are morals absolute or relative. Teacher: Guy Krause.
Confirmation Classes
FPC offers Mid-High youth a Sunday School/confirmation class.
On Pentecost Sunday, confirmands make their public profession of faith and unite with our congregation. It is a day of celebration as our eight graders complete their confirmation experience, participate in leading worship and declare their faith in Jesus Christ.
Parents also are involved in the confirmation process there are several group meetings, some competitive games, lock-ins and mission opportunities.